Hut,Deluxe Rooms, Suite Rooms
Attached bath with hot water shower
Restaurant
Living Room
Transport facility for site seeing
Attractive packages for group
campfire
Climate
The climate of Wayanad is uniformly pleasant throughout the year. The temperature here ranges from 13 degrees to 32 degrees. Monsoon season hits from June through September in the southwest. Cooler temperatures occur during December, January and February.
Welcome to Aranyakam Homestay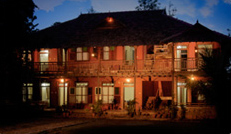 Situated at Meppadi, Wayanad District, Kerala, India and on the route to Ooty from Chundale, Aranyakam offers a quintessential experience of Wayanad. Nestled inside plantations, Aranyakam is blessed with Nilgiri Hills on one side and Nilambur Forrest on the other. A cluster of independent huts along with a Heritage Bunglow built to blend perfectly with its natural environment.
Aranyakam offers a splendid view of the dense forest and vibrant wildlife from a hilltop. The huts are well equipped with all modern amenities. Apart from independent huts, Aranyakam offers Deluxe Rooms as well as Suite Rooms in a heritage Bungalow. A restaurant offering Kerala delicacies is also maintained at the property.
Wayanad lies at an altitude varying from 700 to 2100 meters above sea level. The distinct ecological and geographical features provide a unique charm and an enchanting challenge for nature lovers. The rocks, hills and valleys provide for exceptional adventure experien ce.
It is also known for its exotic plantations of rubber, coffee, tea, cardamom and pepper that stretch over the hills of Wayanad as long as your eyes can see. Wayanad is one of the most rejuvenating places in South India. It presents a picturesque view of a hill station and has managed to retain its pristine beauty to date